Call of the Wilde: Therrien's Foxhole
CTV Montreal
Published Tuesday, February 16, 2016 12:43PM EST
Last Updated Friday, February 19, 2016 7:32AM EST
Why is Michel Therrien still coaching the Canadiens?
Share:
Canadiens GM Marc Bergevin is proud of his foxhole hunkered down with Michel Therrien, but he should instead stand for accountability.
Therrien should not still be head coach of the Montreal Canadiens.
The Habs, with only six points in December, seven points in January and only minor relief in February, are in part struggling because of poor coaching.
There are other factors. The Habs with their worst stretch in franchise history since 1940 are also losing because their MVP goaltender Carey Price is injured, and because they've had an abysmal shooting percentage since the MVP went down.
But you can't discount the coach's role in the Habs failings.
Allow me to make a facts-based, non-emotional argument proving Therrien should be relieved of his duties:
David Desharnais with top power play time, yet before the Buffalo game, he had no power play points in 33 games. Desharnais has only 5 power play points in this season. Paul Byron has as many shorthanded points in 20 fewer games.
Desharnais with 2 goals and 7 assists in his last 35 games, yet the most minutes among centres, and often paired with the team's highest scoring winger in Max Pacioretty. Despite this almost half-season of ineptitude, Desharnais has never moved to the wing, never been benched, never had his ice time cut.
Desharnais is pointless in 8 of 9 games with Pacioretty, yet Galchenyuk with Pacioretty was announced as unequivocally not worth continuing after only 2 games—even though Pacioretty-Galchenyuk-Gallagher as a line was never tried this season. Last season though, they had 12 games as a line and the Habs went 9-2-1.
Third-tier players were used during a 5-minute powerplay desperate for a goal in Philadelphia, with the reason given that top-tier players needed a rest. The coach had a time out at his disposal that he did not use.
Next night down by 1 and desperate again, the 4th line is used with under 5 minutes remaining and this time the coach, after snidely telling a reporter he is second-guessing him, says that he did it again for energy reasons. Once again, the head coach did not use his time out.
Andrei Markov has averaged 27 minutes through many weekly periods since the coach acknowledged that fatigue on his 37-year-old body is an issue. The coach said he knows he needs to manage Markov's minutes, but has not.
Markov is clearly not a player who can skate on a level to make him a quality overtime 3 on 3 defenceman, yet he was used in St Louis. He promptly was stripped of the puck and could not skate quickly enough to recover. Habs lost another on player usage.
Players will say that the most important thing to them is fair ice time, but the Habs watch Desharnais hop over the boards for the first 1:15 of each power play despite zero points in nearly a half season. A meritocracy is vital to players believing in a coach.
A vital goal last month was scored against the Habs that was offside. A team is allowed to ask for a review to get the call right. The head coach didn't ask and no one on his staff was awake either. The goal stood. The Habs went on to lose.
Alex Galchenyuk was moved to the wing after the centre experiment again failed in the coach's mind. Galchenyuk is 17th in the entire league as a centre in points per 60. There's a narrative promoted by someone that Galchenyuk can't play centre. The statistics say the opposite. Despite being tops on the team at centre in points per 60, Galchenyuk was used third-most among centres, and many games has had the fourth-lowest total among forwards in ice time.
The Habs scored 3.5 goals per game when Plekanec and Pacioretty played together until December 1st. Since Therrien separated them on that date, the club averages 2 goals per game.
That's a long list of mistakes in two months.
Therrien isn't losing because he lost Carey Price. He was winning because he had Carey Price. Price masked his errors.
Players can often win despite a coach's ineptitude, but a coach can also make a difference with good in-game bench management, good player usage, good line combinations and a good system.
Instead of getting the best from his players, Therrien introduces instability into this group that has much more talent than many other clubs who are higher in the standings.
Look at New Jersey's lineup. Look at Carolina's lineup. Both teams have significantly less talent than the Habs. Look at Pittsburgh's radical improvement after their coaching change.
Coaching matters.
Look at the Habs lineup. They're essentially two forwards away from what should be outstanding results—if they have a coach who gets the most from his talent by using them at the right time with the right people and then manages well in game.
Forwards that are paid to score goals but don't play a perfect 200-foot game come to Therrien to be mismanaged. Bergevin brings them in for Therrien to bench.
Which UFA is going to be clamouring to come to Montreal to be made to submit, to watch his numbers flag and his earning power diminish? There isn't one forward who has already come to Montreal known more for offence than defence who hasn't been put in the dog house.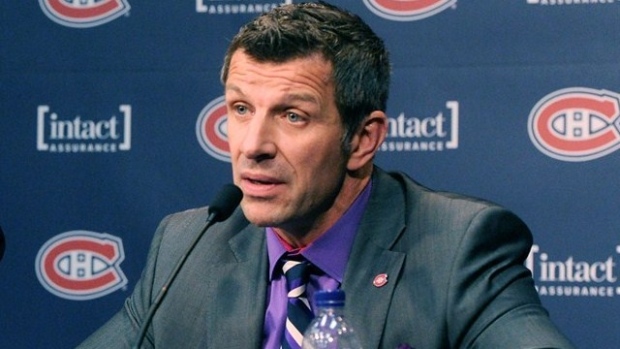 Bergevin needs to find someone competent to coach the Canadiens
Admittedly, Bergevin has done a horrendous job of bringing in even one top-six forward in four years, but by the same token no one comes here to surprise either; they come here to be benched and then, perhaps like P.A. Parenteau, have a bit of a resurgence somewhere else (he has 13 goals and 14 assists in Toronto this season).
Even if Therrien is allowed to stay and can lead this club to some future success, he will do it with the same litany of mistakes. These in-game errors and usage mistakes will eventually, and always, cost this strong core group a chance to drink from the Stanley Cup. Their window of opportunity is closing with no help to their line-up and no coaching to aid the cause.
Minnesota head coach Mike Yeo said after a loss to Boston Saturday that he was a realist. He expected after stringing so many losses together that there would be change. He was fired three hours later.
Yeo's record was 12 and 21 since December 1 while Therrien's is 9 and 23. One was fired. The other is in a safe foxhole with his friend Marc, but Marc should know that he doesn't answer to Therrien. He answers to the crest.