Call of the Wilde: How the Habs can break out of their funk
By Brian Wilde, CTV Montreal
Published Friday, January 15, 2016 7:34AM EST
Last Updated Friday, January 15, 2016 9:46AM EST
Top 10 things the Habs need to do to get out of their funk (in no particular order).
1. Move Lars Eller to 3rd line centre.
He's a shutdown player.
He wins puck battles.
He's tenth in the league in offensive zone time with the puck.
He has more defensive zone starts than anyone on the Habs.
So let him play against the other team's top centres and take the puck into the offensive zone and cycle for most of the shift.
No one will care that he's skating around in circles doing little but playing keep-away if it means Stamkos is chasing him.
Let him shutdown. Let him neutralize stars. That's what he does best. Let him do it.
That way everyone can calm down about his scoring finish and his 26 points per year.
That's a far better way for the Habs to match up than Desharnais trying and failing to handle the other team's top centre.
2. Free PK.
He's got this unbelievable talent to roam and create.
He's so hard to take off the puck so don't be nervous about him holding it longer.
He used to do these tremendously exciting things that lifted people out of their seats.
Yes, he's better defensively, and he does the smart thing. The team would be lost without his 28 minutes a night -- but the guy can provide offence like Erik Karlsson.
Let him roam. Let him get to the blue line and keep going.
Create schemes so he can fire that puck like he can.
He's got two goals this season.
He's way too good for two goals.
He can do Karlsson.
He says he's not paid to score goals. Excuse me, but he's not paid $9 million to be solid defensively.
Nine million dollars is for the goals and the assists and the wins.
Free him to try that.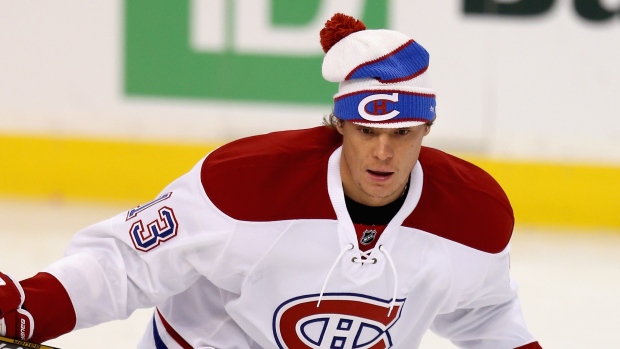 3. Make a trade for a right winger.
Semin and Kassian didn't work. They weren't really even great choices in the first place in this role.
Sure it could have worked but it didn't. Now what?
There's clearly nobody good enough to play in that second-line winger role on the roster now.
Bergevin needs to stop acquiring second-tier guys and hoping they learn how to fly.
A duck is a duck. An eagle is an eagle.
Bergevin needs to trade his vast depth on defence and a top-line prospect to get a second-line winger, or even a first-liner.
Drouin is a tremendous talent on the block and you've pursued him. Well, keep pursuing. Sweeten the offer.
Cups are won with the best players, not an amazing fourth-line or third-pair defence.
The Hawks have the best players, and their best play more and more as the playoffs go deeper and they win cups because their best players play better than your best players.
Get the best players or at least someone like Drouin who may be among the best one day.
A procession of hope in second-tier guys playing on a line with Galchenyuk isn't cutting it.
4. Rotate the time on ice for these players that makes some sense.
Desharnais most often has the top ice time among centres.
Galchenyuk is third pretty much every time.
Check the stats, Coach. Desharnais is in a long slump with one goal in almost two months.
Galchenyuk is your top point getter for the last 20 and only he and Carr are finding the back of the net at all since the beginning of December.
Despite that, Galchenyuk gets less ice time and fewer opportunities. Illogical.
Galchenyuk needs to lead with Gallagher and Pacioretty in ice time.
Galchenyuk is, many nights, fourth-last among forwards.
Therrien usually takes players like Briere, Vanek and Parenteau (all benched or sat-out) who he perceives as defensive liabilities and drives them out of town.
Well, you got to get over that right now, because in the last 20 games, the Habs have 3 goals four times.
You need to get over the Galchenyuk defensive liability bias because right now the players need to believe that the team can score goals.
He's a guy who creates that belief.
5. Manage Markov's minutes by not having him with Subban.
That was a massive headache against Chicago, having a carousel go round and round with the defenceman trying to figure out who they were paired with on their next shift.
Where's the cohesion in changing your partner from shift to shift?
Markov has to drop down minutes and quality of partner. He's slow.
Subban gets Beaulieu. That's the best partner for PK.
Only Beaulieu can take on first-pair minutes with Subban.
6. Stop rotating your lines every period.
It is destabilizing the players. They hate this.
They want to develop chemistry. They don't want the magical mystery tour.
They want to get a sense where their partners are going to be during a shift.
Thursday night, Galchenyuk and Eller were really reading each other in the second.
They were strong and had great shifts.
Then they were broken up in the 3rd.
Ray Ferraro told Melnick once that he hated it when he was going great on a line and was broken up to help someone else get their act together.
Lars and Alex had to feel like Ray last night, wondering 'what the hell did we do now?'
Stability. Players like it. Hell, we citizens in our jobs like it too.
We all like a little stability in life.
7. Move Desharnais to the wing.
He was good there last season for the dozen or so games he was put there when Galchenyuk played centre.
This year we all thought that Desharnais would play wing and Eller would be the centre.
You know ... Win the middle. Win the game.
But nope, Desharnais is often matched up against top centres, losing the middle and losing the game.
Desharnais has some Corsi numbers this year that even analytics-haters would shudder to look at.
Left wing on the second line with Galchenyuk for Desharnais and on the right? A much higher quality player than is on the roster now.
You build a second line with three quality components, and now the first line doesn't face such big attention and always the best defenders against them and top checkers.
One weapon is easy to neutralize.
Two gives the opposition their own match-up issues.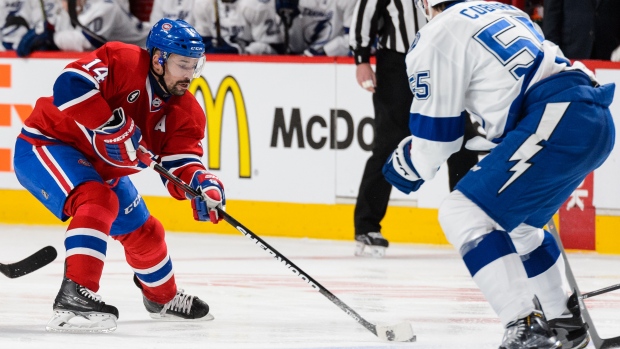 8. The GM needs to get more aggressive for high end talent as trades and UFA signings, and now he needs to see what the market will bear for some perhaps future liabilities as well.
The Habs have one, if not two, that may actually be in a state of decline.
I am inclined to get a little tense about Markov's lack of speed and Plekanec's one goal in 28 games.
Plekanec is coming into his mid-30s, which is a little scary when you check out how forwards start to slow down at 30.
The stats don't lie. Forwards post 30 are now red flags.
The Habs need to hope that Plekanec is just going through a rough patch or this GM needs to learn how to see around the corner better.
I remember thinking how much of a genius Bergevin was for his Bellichek-type move of Erik Cole.
He recognized a talent like Cole was falling before the rest of the hockey world saw the fall and he brilliantly dumped that contract.
Those were the best of times for him.
9. Blank out the ridiculous pressure from outside forces.
Fans and media are frantic through this rough patch.
There's a new faux scandal every day it seems: Galchenyuk and the girl; Pacioretty looked to his left funny; Subban oh my God he swore; Beaulieu didn't stay in his hotel room playing solitaire on his birthday but went clubbing and oh my you're not going to believe this but he was with a woman and they may have been drinking.
Enough.
Block out the noise.
Calm your mind.
Play hockey.
10. Pray one through nine work.
Seriously though, that's just to get out of their funk.
If they want to contest for a cup, they need to be stronger down the middle.
Staal is a beast still, according to Subban, and is very difficult to take off the puck.
Staal would be a good candidate if this UFA is available.
Price needs to be healthy and stay healthy.
The powerplay has to be better.
Barberio has to stay up.
Tinordi should be traded to be given a chance because his teammates care about him and they aren't happy he's treated like this either.
And as crazy as it sounds with a 4% shooting percentage for the last 45 days the biggest thing they need, since Condon has been so strong for 6 straight starts to stabilize the tending, is a little puck luck.
Oh yeah, I already mentioned pray.